10 Best Companies for Convert PSD to HTML Services in 2024
The trend of designing and developing user-interactive and cross-browser compatible websites has been increasing with each passing year. Novice entrepreneurs, risk-taking retailers, large corporations, non-profit organizations, etc have been leveraging the web development platform to promote their products and services to the target audience.
Undoubtedly, the scenario of representing business has changed and that is the reason why people are driving towards the new age of web designing and development tools. One of the growing trends is PSD to HTML conversion.
While PSD represents PhotoShop Document, HTML stands for HyperText Markup Language. Both terms are very popular in the web development world. Many businesses have been converting their rough sketch in the form of PSD files into scalable, user-friendly, responsive, and compatible HTML websites.
If you are planning to host a beautiful HTML website, then look at the 10 most credible companies offering high-quality PSD to HTML conversion services in 2024: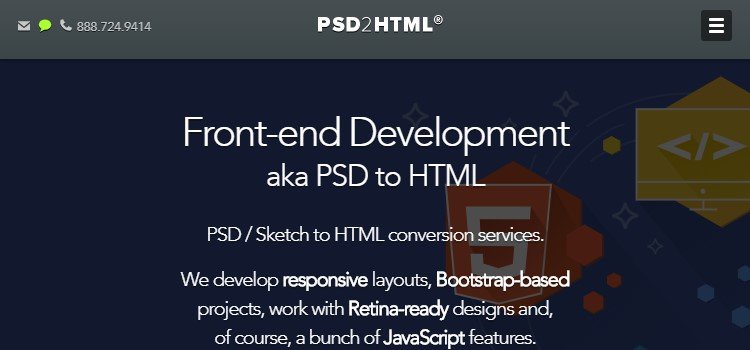 PSD2HTML was created in 2005. It is an outsourced web and eCommerce development services provider with 15 years of experience developing websites of various types and scales. As the name suggests, the company pioneered PSD to HTML conversion services. It specializes in a wide variety of technologies, including e-commerce development (WordPress, Shopify, BigCommerce, Drupal, Magento, and other platforms), email and banner template development, web design, UI/UX design, and markup development. The team boasts thousands of completed projects. Some of these are online stores with multi-million-dollar turnovers.
PSD2HTML team is comprised of the top 450+ web development professionals with a rich portfolio of successfully completed projects. Dedicated developers continually work to learn new technologies, methods, and techniques in markup creation as well as CMS implementation platforms. The team is divided into clusters that contain various specialists able to perform all the required tasks on a project: markup, and JS developers, as well as QA engineers. All of them work in parallel, allowing to provide some of the fastest development services on the market. The standard turnaround time for one HTML / CSS page is 8 working hours. Each additional page associated with the same project takes 3–8 working hours, depending on the complexity and specifications of the order.
The standard workflow of the project includes several stages, such as analysis, planning, development, quality assurance, and delivery. The work on the project starts only after all the details are crystal clear between you and PSD2HTML's project manager. QA includes cross-browser and cross-device testing, reviewing markup, and auditing the final project checklist. All projects are tested both on Windows and Mac OS platforms. Once the project is complete, your project manager will deliver a preview for you to review and to make sure everything is flawless.
Thanks to the highest quality of its services, PSD2HTML has clients on all continents, from the USA to Australia. Just a few of the company's top clients:
Maersk.com
Mazda.com
SmashingMagazine.com
BuySellAds.com
Qantas.com
PSD2HTML offers various methods of payment:
Directly with your credit card on the site. The following cards are accepted: Visa, MasterCard, AMEX, and DISCOVER.
Via PayPal account, if you have one.
Wire / Check payments are available upon request for returning customers.
*For security reasons, payments over $5k are only accepted via wire transfer.
PSD2HTML prides itself on the best customer support service available 24/7 through all possible channels: email, live chat, phone, and others. In addition, every client is assigned a dedicated project manager to oversee the entire project development process.
2. RapidxHTML
RapidxHTML is a highly experienced web development company that comprises of talented and enthusiastic designers and developers who give their 100% to deliver PSD to HTML conversion solutions.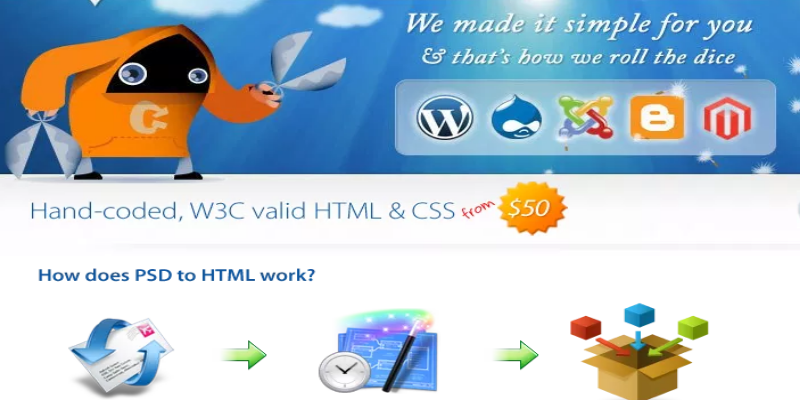 The company prides itself in transforming your pixel-perfect design into a highly-interactive, compliant, and cross-browser-compatible HTML site. They also offer other web development solutions including PSD to WordPress theme, PSD to Magento, PSD to Joomla, and PSD to Joomla conversion services at different packages.
Visit their official site to know more about their services
3. CodeMyConcept
CodeMyConcept is one of the best PSD to HTML conversion service providers that hire only experienced and talented people. From converting PSD files to delivering customer-driven solutions, the team at Code Concept is always strived to give 100 % customer satisfaction results to their potential customers.
With the endurance to deliver cost-effective solutions, the company aims to offer affordable pricing packages to give you quality outcomes.
Know more about their free estimates here.
4. MarkupBox
MarkupBox is a trusted web development company that focuses on delivering PSD to HTML/HTML5 theme conversion services to the global client base.
With over 10 years of experience, the company has successfully developed 7200 projects and still improving its quality to deliver custom-made solutions to its prestigious customers. If you want PSD to HTML conversion solutions with a 100 % money-back guarantee, then contact Markupbox
5. My PSD to HTML
My PSD to HTML possesses a team of highly experienced experts who offer quality and customizable PSD to HTML conversion solutions at affordable rates.
The company loves accepting challenges and thus converts your rough PSD design files into compliant, cross-browser compatible, and user-friendly HTML web pages that can help you grow your business in the competitive web world.
6. PixelCrayons
Pixel Crayons is an award-winning IT services company that offers world-class PSD to HTML conversion services at budget-friendly rates.
From large companies to Small business owners, PixelCrayons offers a wide range of web development solutions including PSD to HTML, PSD to WordPress, PSD to Magento, PSD to Joomla, and PSD to Drupal conversion services at competitive prices.
Visit their official website to explore more about their web development services.
7. CSS Chopper
CSS Chopper is a one-stop destination for PSD to HTML conversion solutions. Being India's most trusted Web Development Company they pride themselves on delivering the highest quality of web development services at the most reasonable price.
The company's sole aim is to work towards meeting the custom-made client's requirements within the given time span.
If you want reliable and robust PSD to HTML conversion services, then visit their official website.
8. W2 Markup
W3 Markup simply takes your PSD files and transforms them into high-quality, cross-browser compatible, pixel-perfect, and responsive HTML/CSS code.
All the PSD to HTML conversion projects are neat, SEO-optimized markup, hand-coded, and thoroughly tested in multiple browsers.
You can learn more about their prices and free estimates by visiting their official website.
9. HTML Panda
HTML Panda leverages 100 % hand-coded and responsive markup with the sole aim of delivering perfect PSD to HTML solutions. The company takes immense pride in offering top-notch PSD to HTML conversion to bring life to your designs using cutting-edge CSS/HTML codes.
The in-house front-end developers design responsive websites to deliver successful results.
Visit their site to learn more about HTML Panda
10. Webby Monks
Webby Monks is backed by a team of 400 + developers and designers who are always ready to deliver PSD to HTML conversion services. The company takes your PSD files from scratch and converts them into custom-made, responsive, and hand-coded HTML and CSS code to take your business to a new success point.
Conclusion
These are the top 10 PSD to HTML conversion companies that can help you convert your rough business ideas into interactive, professional-looking, and responsive websites that can help you grow your business in the competitive world.