Google Penalizes Pop-Ups: Three Alternatives for WordPress
Intrusive Pop Ups have been the best friend of internet marketers, e-commerce sites since its inception. Marketers believe that these pop-ups help them grow their business and email subscribers list and increase visitors to their site.
But, suddenly Google penalized Mobile pages showing intrusive pop-ups and interstitial ads from January 10, 2017.
This came as shocking news for marketers and e-commerce website owners as they rely on pop-ups to increase conversion and subscription rate of their website.
In this article, we will find out why Google penalized these revenue-generating pop-ups and what are the alternatives for these pop-ups on the WordPress website.
Top 3 Reasons Why Google Penalized Intrusive Pop-Ups?
Mobile devices are considered to be the highly used device for web searches. When pop-ups appear on any website on a mobile device, it blocks the content that the visitors expect to see. These pop up direct the user to any newsletter or Facebook pages, so, he may not be able to search what actually the user is looking for.
Keeping this mobile browsing experience in mind, here are the top 3 reasons Why Google penalized Popups.
1. Main content gets blocked: As stated above, intrusive pop-ups block the main content of the website by appearing on the full screen. These interstitial ads and pop-ups are also referred to as the most annoying ads on mobile.
2. Accidentally clicking ads: These annoying ads cover the entire page and have only a small button to dismiss it. This lead to inevitably click on the ad even though the user didn't want to clink these ads.
3. Poor user experience: Due to these intrusive pops and ads, the pages show a poor user experience than the other pages where content is easily accessible.
These are the reasons behind the penalty of intrusive pops and interstitial ads. The exception will be made for age verification and small pop-ups that take up only a fraction of your screen.
What Penalty Google has made on The Websites Using Pop-Ups?
The ultimate aim of Google is to help users quickly find the best solutions to their questions, regardless of the device they are using.
To improve the mobile search experience, Google decided to penalize the websites using Pop-Ups by ranking them low in the search results. The worst website would be rank last in the search results.
After January 10, 2017, pages where content is not easily accessible on mobile search results were not ranked as high as they used to be earlier.
The big Dilemma and the Solution
After Google has penalized intrusive pop-ups, there are two dilemmas' you are most likely to face:
1. If I show ad using intrusive pop-ups on a mobile device, then my site will rank lower in Google.
2. If I don't show these pop-ups, how will I show my offers and grow email subscribers list?
Don't worry! The solution to this dilemma is here. There are some green signals provided by Google for which pop-ups won't be considered as punishable and will not lower your site rank.
These Signals are:
The interstitial ads appear for any legal obligation like for cookie usage or age verification will not be considered as punishable.
Login dialogues on websites where content is not publicly indexable like email or unindexable content that is behind a paywall.
Banners that use less screen space are not penalized by Google.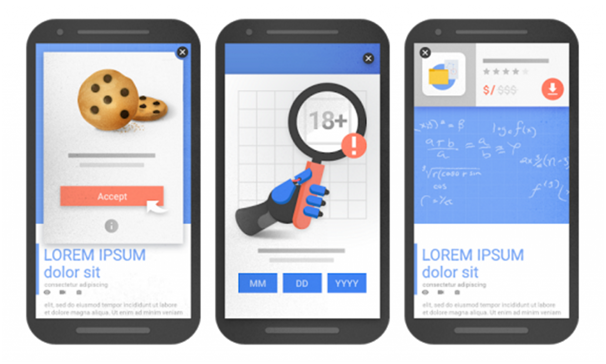 Three Alternatives for WordPress to Keep Your Rankings Intact and Convert Intrusive Pop Ups to Friendly Pop-Ups
To save your website from Google penalty, here are 3 alternatives that will increase your search engine rankings.
1. Hide Pop-Ups on Mobile Devices
If you are accessing through desktop and your website have a Pop-Ups, hide the same pop-ups for mobile devices to avoid Google punishment.
This is a smart move, as the visitors visiting your website through desktop will be able to see the pop Ups and you can generate revenue with the desktop pop ps. However, by targeting only the desktop visitors, these pop-ups will not be shown on mobile devices and hence your website will not get penalized by Google.
2. Use another ad/ messaging styles
There are hundreds of opt-ins other than these popup or full-screen overlays that are highly effective.
Opt-ins has a high conversion rate and is easier to adjust on a mobile screen. Opt-ins is a narrow bar at the bottom of your webpage. This opt-in is also a pop-up, but not the intrusive one that fills the screen.
To get rid of pop-ups and start using the below solutions to overcome Google's penalty:
Floating Header/ Footer Bars: It will have any 2 display position-top/bottom occupying clever screen space.
Slide-Ins: It displays positions at the bottom screen corners.
Inline Opt-ins: These are flexible to fit anywhere –within content, before/after header-footer, before/after post on the screen.
Tabs: It creates a huge marketing impact and quickly helps audiences to contact you without any efforts.
3. Two Step Pop-ups
Sometimes, when you need the whole screen to represent what you offer, intrusive pop-ups are inevitable. In such cases, you may go for two-step pop-ups. In this process, your page will have a button or a link.
In the first step, visitors will click on it.
In the second step, it will cause a full-screen ad to pop-up, hence properly present what you are offering and increase the number of visitors on your website.
Who are the most likely to be affected by Google's Penalty on Pop-Ups?
The Google's penalty on intrusive pop-ups and the fear of losing rank will be a cause of concern for these people:
Online store owners
Plugin sites that make Pop-ups, Interstitial Ads
Marketers
Bloggers
Life Coaches and the people using AdFly etc.
If you are from one of the above-mentioned categories and are using a zero second pop-ups or interstitial ads, kindly resort them to one of the alternatives mentioned in this article.