How to Convert PDF to Word on Your Mobile Phone?
Many of us had problems when we wanted to edit PDF documents. At first, they can't be edited, and copy-paste doesn't give the results that we were hoping to achieve. This makes PDF documents absolutely unusable if you are looking for a way to reuse the existing file. If you have a contract or a report that is in PDF file and you need to make small changes to it for the upcoming meeting, you couldn't do that without retyping the whole document.
You certainly don't want to spend your time retyping existing document only to change a few lines. Then you can turn to the PDF to Word Converter app that can do all the work for you. You can just use your phone to convert the old PDF report into Word, little before the meeting and then just make quick changes while going there. Best thing is that it can be all done on your phone, without you sitting in front of your desk. This opens many other possibilities for you to get other tasks done as well.
Here we wanted to present you a list of features and how you can use them to get your PDF files converted to Word with this app.
Great Conversion Quality
The amount of details that conversion retains from the original formatting is amazing. It will save the formatting from the file, including tables and logos that original file might have. It saves you from reformatting the file again. Just make needed changes, and you are good to go.
Cloud Connected
You can connect and convert files from Google Drive, Dropbox, Box, Onedrive, iCloud and files from Gmail attachments. This can make finding your files easy, and you can save your device storage because you don't need to download the file to use it for conversion. Just tap on service you use and find the file you want to convert.
OCR Conversion Supported
With the supported OCR conversion engine, you can convert almost any image-like or scanned PDF document. As you may already know, you can't select text from an image and copy it to the clipboard, you would basically have a read-only file. What OCR does, is that it recognizes text from these scanned images and turns them into text which you can work with.
Document Scanner Feature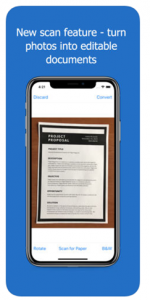 PDF to Word Converter has one very interesting scanning feature, which makes you wonder why nobody has thought of that before. It allows you to convert paper documents into Word file, without shifting between several apps. This might be useful whenever you have hard-copy of the document instead of the digital version, and you can instantly make it available for editing on your phone.
Easy-to-use App
The app is very easy to use. It only takes a few basic steps to get your files converted:
1. Download the app from the either App Store or Play Store.
2. Select the file you want to convert. You can do this in several ways by selecting the file from the device, uploading the file from Cloud or by taking the photo of the document.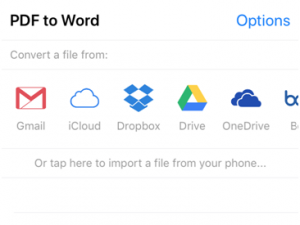 3. Wait for the conversion to finish and further edit your file in MS Word app.
That is how you can edit your PDF file by converting it into a Word document using only your smartphone and this app. We have shown you a couple of ways how to use this app and it is up to every person to find out how they might use this to improve their productivity. With the mobile technology progressing there is so much we can do, so why don't give it a try and make your life a little bit easier.