Top 10 Websites for Free Hosting Service Providers
In recent years, the popularity of free hosting providers has increased manifold.
You know why?
With all the expenses essential to run a successful website, it's enticing to try and cut the cost where possible. And it's like icing on the cake if you get the free hosting providers for your website.
There are a large number of free hosting providers in the market. So, it becomes very challenging for the website owners to pick the right one that suits their requirements.
So, to help them choose the right one, in this article, we have compiled a list of top 10 free hosting providers in 2020.
Let's dive in.
1. InfinityFree.net
InfinityFree have managed to stand out as the most reputed feature-rich web hosting provider in the market. It has been offering hosting services over six years with 200,000 users and offers unlimited disk storage and bandwidth.
InfinityFreecomes with PHP and MySQL and ad-free service on your site.
Features:
Disk Space: Unlimited
Domain Hosting: Unlimited
Bandwidth: Unlimited
Email accounts: 10
MySQL databases: 400
2. 000Webhost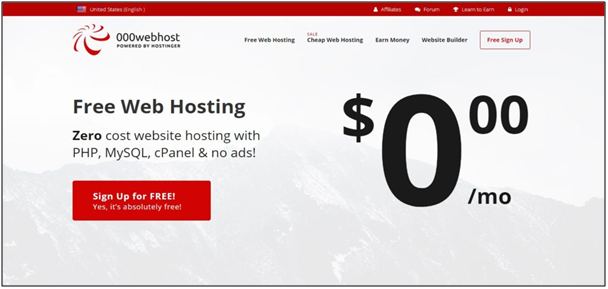 000Webhost is a free hosting provider which is operated by Hostinger. It is offering its services from 2007 and has millions of users. In addition to free domain hosting, 000Webhost also offers website traffic status, SEO analytics tool, and guides to promote your project.
Features:
Bandwidth: 10 GB
Domain: 2000 MB
Disk Space: 5 GB
Email accounts: 5
1 Click Install
3. Byethost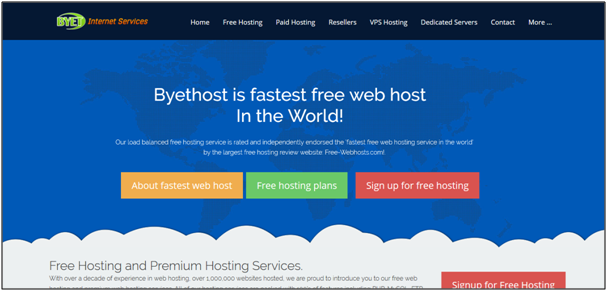 Byethost is a part of US-based hosting provider, Byet Internet. With over a million website hostedByethost claims that its hosting service is one of the powerful networks that is dedicated to free hosting worldwide.
By using its hosting services, the users get benefited from 24/7 tech support and access to Byethost's knowledge base.
Features:
Bandwidth: 50GB
Panel: cPanel
MySQL Database: 5
Disk Space: 1 GB
Email accounts: 5
4. WordPress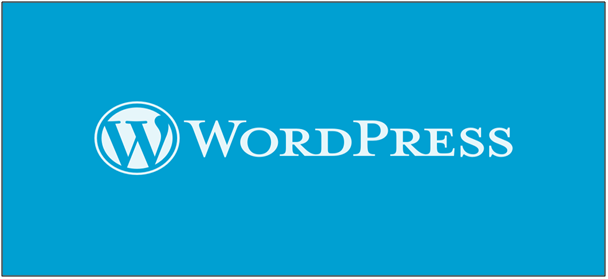 WordPress is the free and widely used Content Management platform that covers nearly 29% of all websites. The most important reason to use WordPress as a hosting provider is that it is a reputed site that guarantees to host of your website without any hassle.
Features:
Disk Space: 3 GB
Bandwidth: 3 GB
Domain: WordPress.com
Website Design: hundreds of mobile-friendly themes and plugins
5. Weebly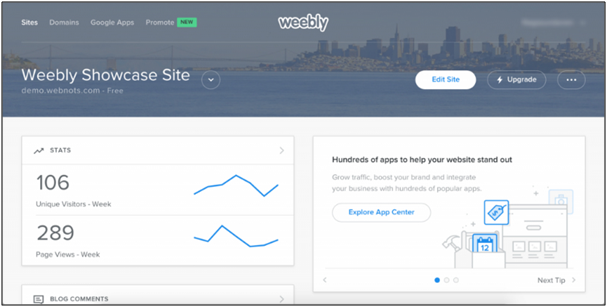 Weebly is the most famous website builder and offers a wide variety of hosting services. It has beautifully designed templates to help you create your website.
Weebly's templates are the most polished one that you can find. Free hosting comes with ad-free hosting services.By upgrading to the paid plan, you can also add e-commerce stores in few minutes.
Features:
Bandwidth: Unlimited
Disk Space: 500 MB
Domain: Weebly.com
Email: No
Website Design: Free templates, drag and drop website builder
6. Wix

Wix is a powerful browser-based website builder which offers simple and drag and drop interface for website building.
Wix has amazing robust features and easy setup. Hence, it is the most preferred hosting provider by the websites. The email accounts and e-commerce features are available with the premium plans.
Features:
Disk Space: 500 MB
Bandwidth: 500 MB
Domain: Wix.com
Email: No
7. x10Hosting.com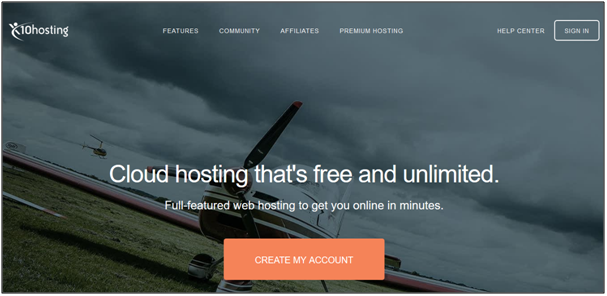 x10Hostingis offering its full web hosting services with a high-performance environment as promised. It now also offers premium and paid web hosting services.
What makes x10Hosting most popular among the newbies is its free web hosting services.
Features:
Bandwidth: Unlimited
Email accounts: 3
Disk Space: Unlimited
Domain: 1 park domains, 2 subdomains, and 2 add-on domains
8. FreeWebHostingArea.com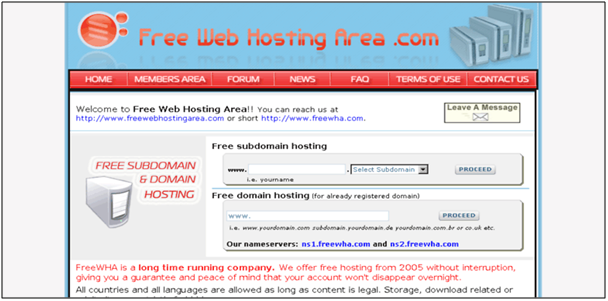 Free Web Hosting Area offers a tech-savvy platform to explore and experiment modern versions of PHP, Apache, and MariaDB.
For less experienced people it provides above-average support and also offers many features that include a community forum and an auto-installation for popular software etc.
Features:
Disk Space: 1.5 GB
Bandwidth: Unlimited
Email: No
MySQL database: 3
9. AwardSpace.com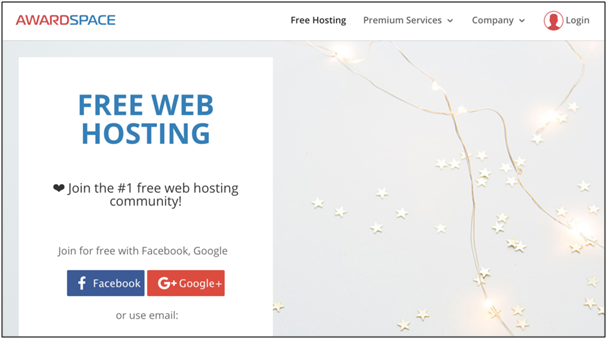 AwardSpace is a pioneer in offering free web hosting services from more than 10 years. It offers ad-free hosting service and has over 2.3 million users. It provides 24/7 customer service which makes it the most trusted hosting provider.
Its free plan allows web hosting newbies to test its services and decide whether they should invest in it for the long term.
Features:
Disk Space: 1 GB
Bandwidth: 5 GB
Email accounts: 1
Domains: 1 domain, 3 subdomains
10. Bravenet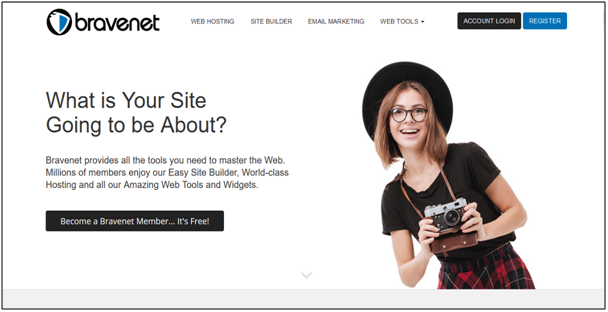 Bravenet is a Canadian company which is the only free hosting provider with an email marketing platform. The email marketing tools help in building a contact list and designing messages through templates.
Features:
Disk Space: Unlimited
Email accounts: No
Bandwidth: Unlimited
Domain: Free subdomain of Bravenet
Website Builder: Easy to use drag and drop builder
E-commerce: No
With tons of excellent features available, these free hosting providers will help you to build a fully-optimized and reputed website
Beside this, there are various online courses available such as Social Media Marketing course, Digital marketing Course, Web Hosting Course, by which you can learn everything. With these skills, you can manage everything on your own without hiring anyone to manage your website.
Examine your needs and choose the best option for your business.